I was so excited today when I went shopping to see what was new in the stores this week because all of the items are Halloween themed items. I know that some people might think it's a bit early to start celebrating Halloween but not me, I have been looking forward to it for a while now. I got some awesome new Halloween themed items today and I really want to show you my most favourite ones.
My most favourite item this week is my beautiful new Spooky Ghost Fireplace because it's the most awesome Halloween item that I have seen in pet society so far and it was also sent to me as a gift from one of my wonderful friends. I was really scared at first when I saw a ghost come floating out from the mirror but after watching her for a while I've come to the decision that she seems kind of harmless, she just hovers around the fireplace lighting the candles over and over. I might even pluck up the courage to try talking with her one day.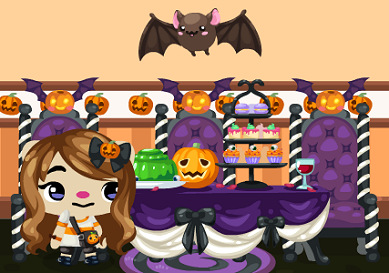 My second most favourite item this week is my cute new WWF Vampire Bat. It's so cute and it makes a perfect decoration for any of my Halloween themed rooms. I love watching it hovering above the Halloween feast that I set up for my friends to come and enjoy with me if they want to, I think the food looks so yummy.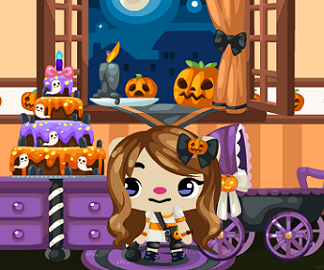 While I'm busy dreaming about yummy Halloween food take a look at this gorgeous Sweet Halloween Tiered Cake that was gifted to me from another one of my lovely friends. It looks absolutely delicious but the trouble is that it is just to beautiful to ruin by eating it. The last item that I want to talk about this week is my awesome new Luminous Halloween Window which I just adore. I had to get help from fifteen of my friends to make this window but as usual my amazing friends didn't let me down. I love this window so much that I think I will have to ask for my friends help again to make a second one so that I can have two of them for my new Halloween room. Don't forget that you can check out all this weeks new items at the
Pet Society Blog
if you haven't had a chance to see them yet that is.