Today I'm so excited like I always am on Mondays because nearly all of the stores have lots of nice new items in them for me to buy and I have been shopping like crazy all day but my most favourite items this week were all sent to me as gifts from my wonderful friends.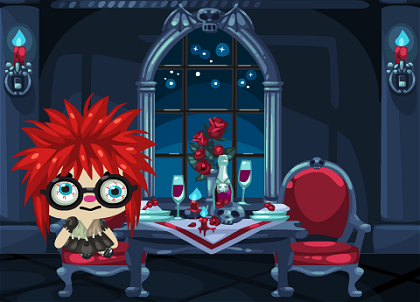 My most favourite item this week is my
gorgeous
new Spooky Dinner for Two decor because it is just so beautiful and I
absolutely
love it. You might notice that I look a bit different in the photo but that's just because I am dressed up for Halloween fun. I plan on wearing silly costumes most of this week since this is the last week of Halloween in pet society and I just got lots of fun new costumes.

I just got this amazing looking new room in my home because I now own all four of the Spooky Collection items. All four items were gifted to me from the same kind and generous friend and I can't tell you just how much I appreciate these gifts. I feel so amazed and overwhelmed that my friend sent me all of these beautiful gifts and I will treasure them forever. I just hope I will be able to do something as nice and generous for my friends at some point in the future.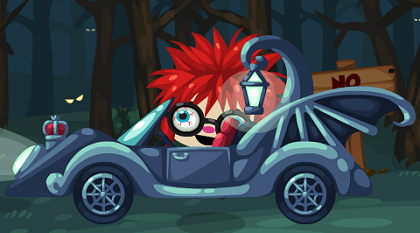 My last favourite item this week is my beautiful Gothic Bat Car just because it looks so awesome. I'm seriously in love with this car and it makes me wish that I had passed my driving test already so that I could take it out on the town but unfortunately for me I have not passed my driving test yet so I have to make do with just sitting in it and
pretending
that I'm driving it around town, I still have fun in it though so it's all good. Don't forget you can visit the
Pet Society Blog
anytime if you want to check out all of this weeks new items.