I have been super busy over the last few days learning to fly of my new broomstick that I had actually forgot to tell you about a few of my other favourite items that are new in the stores this week.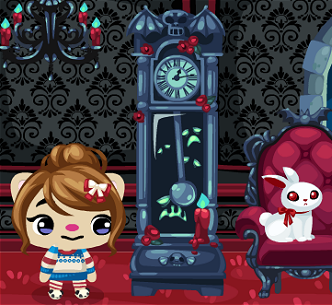 Isn't this Haunted Grandfather Clock just beautiful? It was sent to me as a gift from one of my wonderful friends and I really love it so much. I should always be able to tell what time of day it is now. I decided to put my awesome new haunted grandfather clock in my new vampire themed room because my new vampire room is the best room in my house now and the clock looks perfect in there.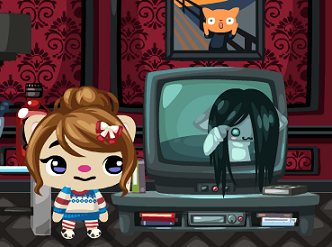 Another of my favourite items this week is my new Haunted TV. I think something is wrong with this TV though because it's been acting very weird ever since I tried watching that video that just appeared in my house a few days ago, I suspect that the video might have been left by
Hideeni
but can't be sure about that. Anyway my TV decided to just switch itself on while I was sitting down reading a book earlier today and this creepy girl pet with long black hair started coming towards me. It scared the life out of me and I ran out of the room as fast as I could. I'm not so sure that I want to watch that TV again anytime soon and I also think I will avoid watching anymore mysterious videos that are just lying around in my house.