I know that I always say how excited I am each week when I post about the new items but this week I feel even more excited than usual because this weeks items are all vampire themed and I just adore every single item that's new in the stores this week.
My most favourite new item this week is my beautiful Spooky Ghost Piano which was sent to me as a gift from one of my wonderful and very sweet friends. I love this piano so much because it seems to play music even when I'm nowhere near it. I thought it was a bit creepy at first to be honest but now that I'm used to it I just love it so much because who or whatever is playing on it is actually a great piano player and I could listen to the lovely music all day long.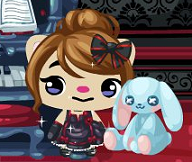 My second favourite new item this week is my Innocent Bunny
Plushie
which I think is just so adorable and I have no idea why this bunny is being sold during the Halloween season because it's not scary at all. I thought at first that maybe it was haunted but after playing with it for a while earlier and having it in my room all day I have come to the decision that it's just a normal
plushie
and I just want to cuddle it all the time because it's so cute and squishy.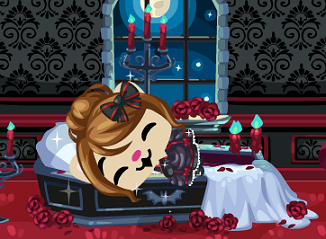 Another of my favourite items this week is my new Romantic Vampire Coffin & Window which was also sent to me as a gift from another one of my lovely friends. I know I've said this before but I really do have the
bestest
friends ever. I was lying down in my new coffin earlier today just to see what it would feel like and I fell asleep in it because it felt really soft and comfortable inside, it was a bit to creepy for me when I woke up in it though. My favourite thing about this new coffin is that it sparkles, I just adore anything that sparkles. Don't forget that you can visit the
Pet Society Blog
anytime you want to check out all of this weeks new items.