Today I have been shopping like a crazy pet because I really love this weeks theme and all of the items are just so beautiful and different from what we have had in the past mixing light and dark together.

At first I thought that I was only really interested in the light themed items but then when I saw all the awesome dark themed items I felt a bit confused because I liked those too so I decided to just buy items for both light and dark then when I got home from shopping I made a cute room that mixed both light and dark together and I think it turned out really nice. What do you think?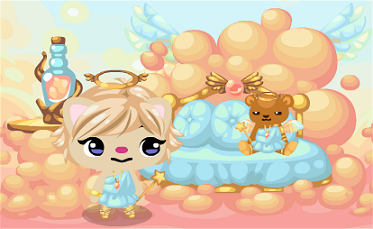 When I was browsing in the Boutique store earlier today I noticed that there was two new small secret rooms to buy and just like with the rest of the items from this week I couldn't decide which one I wanted most so I asked my owner which one I should get but she just said why not get both so that is what I did. The picture above is my new Stairway to Heaven themed bedroom. Don't you think it looks like a good room to have nice dreams in? I know that I do.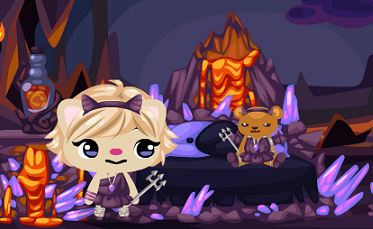 I decorated my new Gates of the Underworld themed room like a bedroom too but I'm not to sure that I want to be sleeping in this room very often because it looks like it might cause me to have nightmares while I'm sleeping in this room. It's also a bit noisy for sleeping in because of the thunder clouds and
volcano's
so I'm not sure I'd get much sleep in this room anyway. Which theme do you like best this week Light, Dark or are you just undecided like me?