I am so excited this week because all the stores are all filled with
gorgeous
Chinese New Year themed items which I absolutely love. I had so much fun yesterday decorating a room with all the beautiful Chinese themed items that I bought and got gifted from my friends.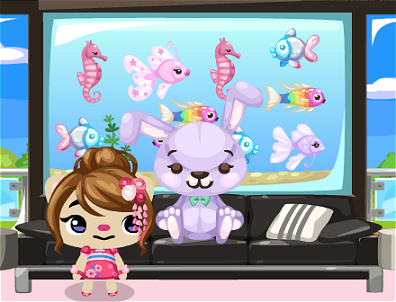 My owner just took this cute picture of me with my most favourite item from this weeks new items. It's called the Rabbit of a Thousand Faces and it's so cute and cool because it looks different
every time
I come into my room to play with it. I really love it the best though when it has a cute face and is a nice colour like pink or purple. The nicest thing about my new rabbit is that it was sent to me as a gift from one of my lovely friends which was a very nice surprise for me when I opened it and it made me smile all day long. Don't forget that you can visit the
Pet Society Blog
anytime if you haven't already seen this weeks beautiful new items for some reason yet.