I'm really sorry about this but I'm going to have to admit that I have never actually heard of this thing called
steampunk
before until this weeks new items arrived in the pet society stores. I still really love all of this weeks new items very much though so I guess I don't really need to know that much about
steampunk
anyway.
My most favourite item this week is my new adorable little Brass Robot because he's so cute and I love to watch him dancing around in my new
steampunk
themed room. I know that we've had a few other robots in the past in pet society but this new robot is definitely the cutest robot so far and I really love him lots.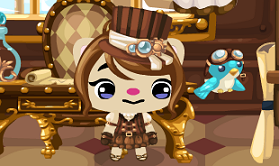 My second most favourite new item this week is my cute Flying Bird with Goggles. Isn't it just so adorable? I
absolutely
love it and I think that it is the best flying creature that has ever been sold in the pet society stores so far. I'm still trying to think of some nice names to name my awesome brass robot and flying bird but thinking of good names is sometimes so hard work and I can't think of anything yet.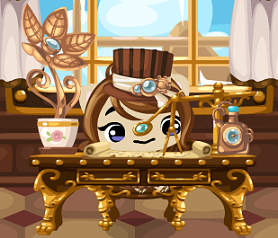 My third most favourite item this week is my beautiful new Mechanical Flower just because it looks so cool and pretty in my
steampunk
room. I was actually lucky enough to win a flower fertilizer on the daily lottery wheel today so I decided to use it on my new flower seed so that I wouldn't have to wait a long time for my pretty new flower to grow. Don't forget that you can visit the
Pet Society Blog
anytime if you want to see all of this weeks items.