I was thinking earlier today about how nice it would be to take a break away from my normal everyday life then while I was out shopping in the garden store looking to see what was new this week when suddenly I got the idea of going on an exciting jungle adventure. I rushed home and packed a small bag with a few things that I would need like hairbrush, toothbrush and clean clothes. Before I knew what was happening I was settling myself in to a lovely little
tree house in the middle the jungle
, this is where I will sleep during my stay here. I will feel so much safer sleeping high up in a tree house than down on the ground that's for sure.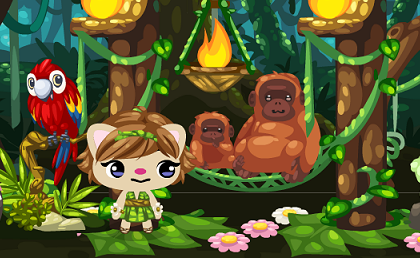 I decided that it would be best to wear something that blends in with the jungle colours while I'm exploring so I don't attract to much attention to myself from some of the larger animals. It's only been a few hours since I came to the jungle and I've already seen some friendly Orangutans, a Monkey and a Scarlet Macaw. I think maybe I saw a leopard too but it was to far away to see properly. Hopefully I will see it again while I'm staying in the jungle though. You can visit the
Pet Society Blog
to see everything that's new this week if you haven't already seen for some reason that is. I'm going to go do some more exploring of this jungle now, bye.