This morning I went on a shopping spree because the stores always get lots of nice new items in them for me to buy on Mondays. I was so excited when I went to see what was new in the garden store this morning because there was a big Ice Cream Stand for me to buy. Of course I bought myself one and quickly ran home to set it up in my main room so that my friends could come over to my house and enjoy ice creams with me anytime that they want to.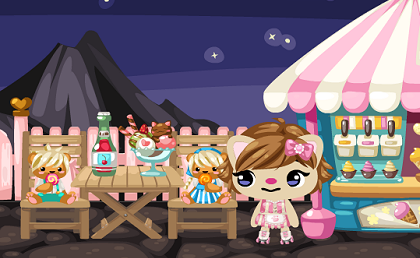 I have been having lots of fun playing with my new ice cream stand all day today. I decided to dress up in my new pink waitress outfit so that I can pretend to be the waitress of my new fancy ice cream stand. I put my roller skates on too so that I could bring my pretend customers their ice creams so much faster than if I was wearing regular shoes. My two new dolls Hansel and Gretel are my pretend customers because they love ice creams and candy almost as much as I do and they don't complain much about me dropping the ice creams on the floor all the time, apparently roller skates and ice creams don't go together very well it seems. You can visit the
Pet Society Blog
to see what's new this week in pet society if you haven't already seen for some reason yet that is.