I'm so excited today because I just finished decorating my Christmas tree. I had so much fun picking out the decorations that I wanted to hang on my tree. I was kind of fussy about which decorations I put on my tree but that's only because I wanted it to look perfect.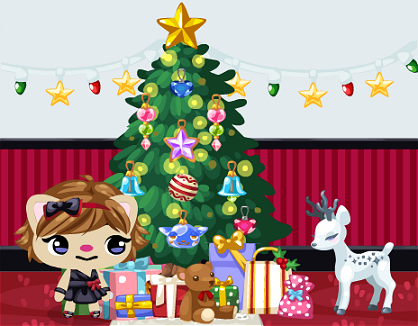 Don't you just love it? I know that I do and I feel very pleased with how it looks. I didn't add to many decorations to my tree because I didn't really want to cover up all the lights with the decorations. The Evolving Luminous Christmas Tree is my one of my favourite new items this week and was sent to me as a gift from one of my dear friends and I love it so much. The adorable Baby Reindeer Figurine which you can see in my photo is also one of my most favourite new items from this weeks new items because it is just beautiful and I love it so much. Don't forget that you can visit the
Pet Society Blog
anytime if you want to see all of this weeks beautiful new items.