I really feel like I should apologise for the lack of updates over the last few weeks. My owner has been very busy and could not spare the time to help me take pictures and write my blog but hopefully she will have more time to help me from now on. Since I haven't updated for a few weeks I thought that I would update you all on my newest rooms and favourite items from the last few two themes starting with the awesome Pawitched week which I loved so much.

I thought that all the items from the Pawitched week were just amazing so I decided to decorate an entire room with this theme and I think it turned out really nice although I really do wish that there was a nice new plant pot to display the new flowers in that would match much better with all the pretty colours of this room.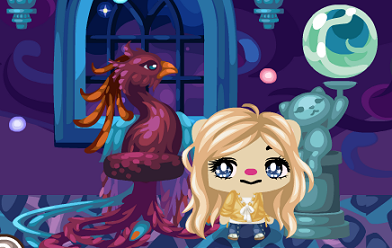 My most favourite item from the Pawitched week is this beautiful Phoenix Seat which I got given as a reward for growing all three of the different Mystery Phoenix Flowers. I was so happy to receive this reward especially after having to grow so many different flowers to get it but I do think it was worth it because it looks so perfect in my new Pawitched room and the flowers are really nice too.

Last week I bought myself this beautiful pawitched haunted house door thingy which I just fell in love with as soon as I saw it in the boutique store and I really wanted to make a pretty room to display it in so I decided to make pretty pink flower garden which actually turned out to be a perfect idea because this weeks Summer Blossom theme has some very pretty items that work perfectly in this room just like my most favourite item from this week.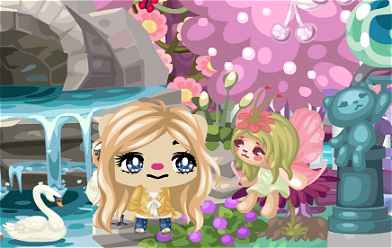 Isn't the Summer Blossom Pixie just so adorable? As soon as I saw this little cutie in the boutique store I just knew that she had to come and live with me in my home. She now sits on a pretty little flower in my new pink flower garden room and watches over the swans that are swimming in my modern swan grotto. I don't think that I could find a more perfect place for her to be in my home than where she is right now.

I have had such a fun time shopping and decorating my rooms with the last few weeks themes but that's mostly because all the items have been so beautiful over the last few weeks and I have felt very inspired by them. I really do wish that we will get lots more beautiful items and themes like these in the future too. I do hope that you won't mind reading such a long post from me this week by the way but I did have a lot to catch up on from the last few weeks updates.